Kamila Rodrigues, a strange start but a beautiful journey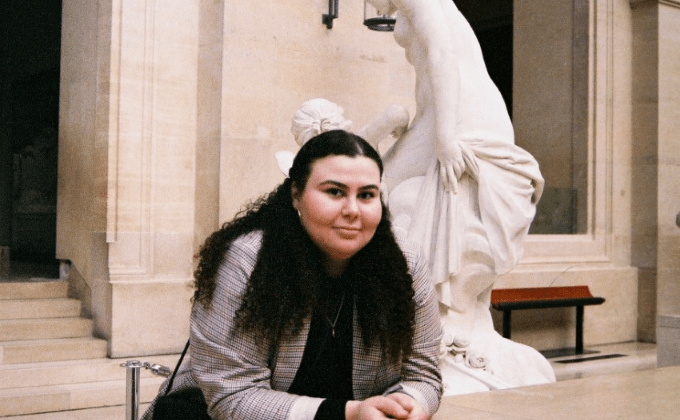 Edited by Stephanie Schorow
Three weeks after Kamila Rodrigues started her internship at MATV/UMA she had an unwelcome surprise. She was happily working in the editing studio, eager to learn more about video production techniques, when another staff member approached her.
"Don't take this the wrong way, but you have to leave," she was told. This was the beginning of the shutdowns and social distances mandated by the spread of the COVID-19 pandemic. With few questions, she left, assuming she would return in a matter of weeks. Like many Americans, she was just becoming aware of the coronavirus and like many at first she thought it would resemble the H1N1 flu epidemic which left most American unscathed. That didn't happen.
"My three best friends and I were like, 'Hey, we never see each other, let's get together since we hadn't seen each other in months!' That was a mistake," Kamila recalled. "We ended up having a sleepover and we all got Covid One of us had to have had it initially, but we don't know who. No one we knew had Covid. And I was judging people for having thirty-people-parties on Instagram.
"It just goes to show you can never be too careful! We were very lucky because it wasn't as bad as it could have been."
Like many people Kamila had to quarantine. "I literally went into my room for two weeks and didn't come out unless it was for testing," she said. "I stayed for a third week just for good measure. My birthday actually took place in the middle of that and I thought I would be completely miserable. Thankfully I ended up watching a movie with my friends through a Zoom call."
In the meantime, Kamila went virtual for her UMA internship She attended a film-skill building workshop online, took part in promoting events and wrote for the Malden newsletter. She also worked with Malden Reads on a few assignments. She received constant encouragement and support from the UMA staff. "Everyone who works there works like a community and they push you to try new things and support you in those endeavors," she said.
This was important since she was still reeling from some insecurities she'd had after graduating college. "I ultimately want to work in media," she said. But like recent grads of higher education, she wasn't sure where she would work in her field the first year out of school.
"I studied communications and social sciences. My parents wanted me to become a STEM major," said Kamila, a first-generation college graduate of Brazilian immigrants. "You feel compelled to do something safe in your career. You are lucky you had the opportunity to be here. No one — absolutely no – one tells you growing up that a career in the arts is possible. But it is; the (media) you consume every day, it's made by someone! It's not just lead actors, or singers… but EVERYTHING! It's just a lot of people don't know about that."
Kamila worked on several productions, she helped with auditions for reality TV shows and worked for National Geographic. "When I first started, so many projects were taking place so there was a shortage of production assistants. Even so, I was still nervous. You normally need experience for jobs like this, and when I asked [the people hiring] they said it was good because then they'd be able to train me the way they wanted me to work. It was also beneficial for them to support the local industry and not bring out others from outside of Massachusetts."
The film industry is actually quite difficult to break into, Nevertheless, Kamila is adamant about what she loves and what she does. "My main goal in life is to tell stories, and there's so many mediums to do that through! If I didn't try, I would spend my whole life wondering 'what if?'"
When asked what advice Kamila had to give to students trying to get an internship or otherwise be involved at UMA, she said,
"Try everything! I've be asked to do certain things that I never thought I would do or find interesting and I'd end up really enjoying it. It forces me to learn new skills I hadn't aimed for. You should try everything that's possible to try. Experience is very important and a great investment in your future."