Run for the UMA Board of Directors!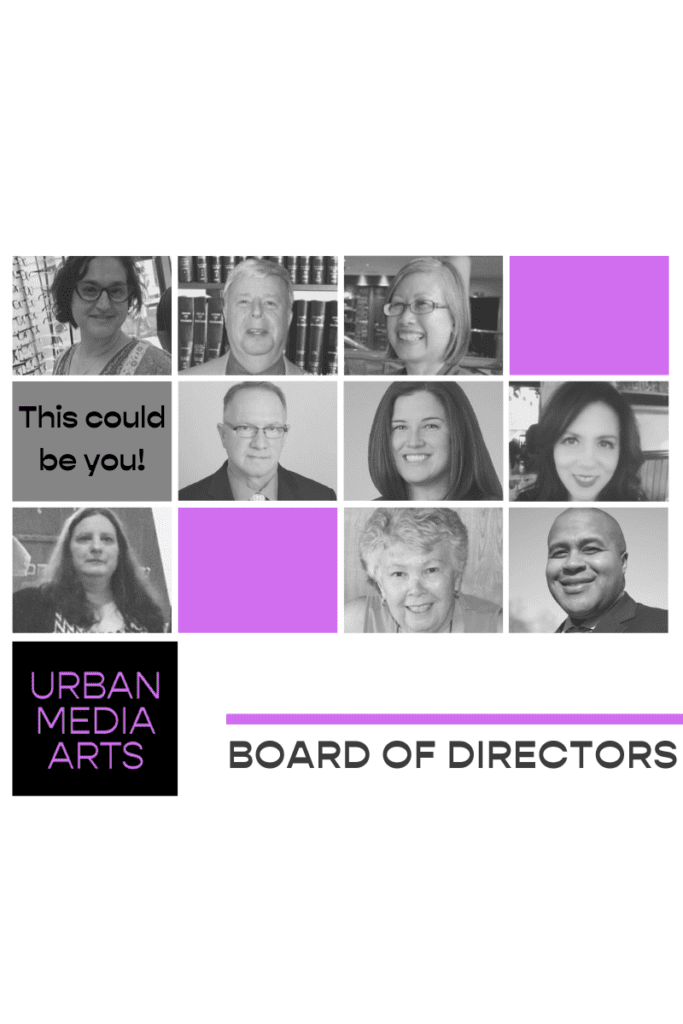 UMA stands for Urban Media Arts and is formerly MATV, Malden Access Television, established in 1989 as a 501(c)(3) organization. We are a community media arts center, located both virtually and in Malden, MA, whose mission is to connect community, promote civic engagement, and nurture arts and culture in Malden and surrounding areas.
Have you been connected to UMA and/or MATV and are you interested in helping to shape the organization's future? The UMA Board of Directors does long and short range planning, sets policy, and ensures the financial health and sustainability of the UMA organization. The Board of Directors is committed to representing the Malden community and meeting its needs for connection and community, using the tools of media and the lens of arts, culture and citizen engagement.
Currently there are six appointed seats and three membership seats on the UMA Board. Terms are three years and Board members may serve two successive terms. Each year, one membership seat becomes available and is filled through an election by the membership at the organization's Annual Meeting held in early Fall. Board members meet on the third Tuesday of every month and also serve on subcommittees, which may require separate meetings.
If you are interested in serving on a membership seat on UMA's Board of Directors, please contact Frank Molis, UMA Board Clerk, at yservices@aol.com and cc: Executive Director, Ron Cox at ron@umarverse.org. You must either currently be a member of UMA or become a contributing member before announcing your candidacy. A connection with the organization is required for membership seat candidacy.
Candidates must submit a photo and a statement of candidacy, outlining their qualifications, interest, and why they wish to serve on the UMA Board of Directors. The statements and accompanying photos will be distributed to the membership for an election that will take place online prior to the Annual Meeting on October 14. The winner will be announced at the Annual Meeting. Please submit an email stating your interest in running as a candidate as soon as possible. The photo & profile blurb will be due by Tuesday, September 28 at midnight.
If you have any questions, please contact Executive Director Ron Cox (ron@umaverse.org) or Board President Ari Taylor (president@umaverse.org).