Culture Matters in Malden

A podcast that gives voice to the varied cultural and artistic expressions of Malden
as a kind of lens to important themes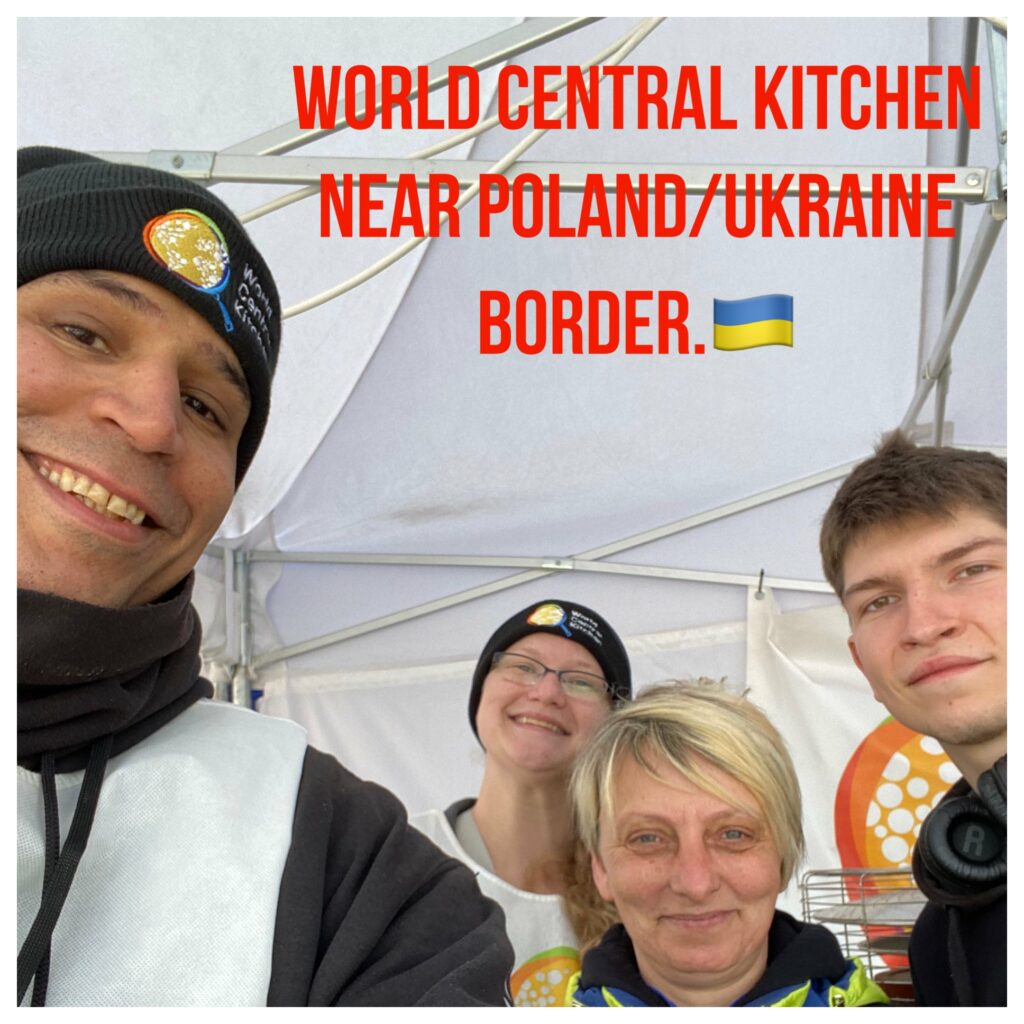 Julio Salado is an award-winning fitness professional founder of Fitness Foundry in Malden. He is also a licensed EMT, an author, and an educator. As an active member of the community, he volunteers at several mutual aid and civic engagement groups both locally and beyond.  
In this episode, host Ose Schwab sits down with Malden resident Julio Salado to reflect on his week in Przemyśl, Poland aiding Ukrainian refugees who crossed the border to flee the Russian invasion back in April 2022. He was part of a ragtag team of international volunteers distributing food to displaced children, adults, and pets.
At a time when so many people in the the world are in crisis, it is hard to know what to do and how to help. Julio guides us through the steps he made to put his desire to help into action – from connecting with organizations on social media, to crowdfunding travel expenses, to the actual day-to-day labor of aiding refugees. His unique passion and energy are players in this story, but he insists that anyone can make a difference if they ask for the opportunity.
Podcast Editor: Meredith Rumore
Music: https://www.youtube.com/watch?v=LIUoFuSuvTM

Episode #12: Laa Tiendaa ft. Gabe Toribio | Sneaker Culture
Sneaker culture, the allure of drip, is Gabe Toribio's language. His small business, Laa Tiendaa, a street-style minded haunt on Lebanon Street in the heart of Maplewood Square, is the culmination of a years-long journey of studying, appraising, reselling and selling sneakers that began with the first pair of kicks Toribio bought at a premium from his brother.
What began as an amateur website has flourished into a vibrant and welcoming shop with a booming clientele and a unique vision of arts and culture in Malden.
Find Laa Tiendaa on Instagram at @laatiendaashop.

Episode #11: Natalja and Gene Sticco | Requiem for Malden
By way of Latvia, Natalja Sticco brings to Malden her beautiful executed and rare craft: opera singing. Natalja has managed to bridge her musical artistry with a career in information technology, or IT, and she is continuously bridging cultures and languages in both her marriage and her residence in one of the most diverse cities in the state of Massachusetts. Her husband Gene joins us to discuss the business of the stage and finding purpose in service. 

Episode #10: Souad Akib 
Community in a Foreign Land
Formerly recorded as part of the Inside Malden Ideas and Stories that Inspire series produced as a video and podcast show, this conversation is pertinent to our ongoing challenge to be united though we are different. The conversation with Executive Director of the American Association for Arab Women, Souad Akib, holds some keys for being unified and connected though we have differences.

Episode #9 | Lisa Tiemann -Inside and outside nature – healing the split
Art is Lisa Tiemann's tool to piece together our fragmented sense of self, that for some feels outside of nature. Appropriately, her artforms are stained glass, dance, and mosaics. She enjoys the thrill of student works when teaching. In addition she facilitates community projects like the "Green Man" Mosaic, recently completed by a number of amateur and professional artists to be installed in a community park. From first frolicking along the shore and delighted by small pebbles and happily playing in the woods chasing rabbits, today all this awe for nature continues. It mixes with compassion for those who miss out on the wholeness feeling part and connected to the world of plants, animals, and elements engenders. She wants to help heal the split that keeps us outside of nature – when we belong inside.
Read more – Lisa Tiemann website and an article about the Green Man community mosaic project

Episode #8  | Eli and Hudson
Voices for a Better Now
What is possible when we listen to children old enough to want to share their concerns, observations, and ideas? Eli and Hudson are two middle schoolers with sharp minds and a deep concern about what is happening around them. They care about society, global warming, energy efficiency, and equity for all. It matters to them how we handle systemic racism and crime or how much fossil fuel we use for even things like solar panels. They want to be challenged in the classroom and have ideas on how to make things better.

Episode #7  | The Gallery@57 – The Power of "YES" 
What is possible when a team of artists running a community enterprise let "YES" be the dominant force in navigating challenges? Leaders from The Gallery@57, an artist-run community enterprise in Malden, talk about the challenges of closing down during the COVID-19 pandemic. They share some of the key elements of their persistence and why they believe that YES, they will succeed!

Episode #6 | Jean Appolon -Dance like breathing
With the Covid-19 pandemic  still running its course in the world and protests around the US calling for an end to systemic racism, speaking with Jean Appolon is an oasis of hope and healing. In this conversation by Zoom, Appolon shares snippets from his own journey with dance, a lifesaving passion that helped him process his own trauma of his father's brutal murder.  He also speaks about his desire to share all that he knows with others: folkloric dance, Haitian culture, overcoming trauma, and really just being human.

Episode #5  |  Karen Krolak – Choreographing Community
A conversation with Artistic Director of Monkeyhouse, the innovative Karen Krolak, about the power of inquiry and articulate movement to help communities find more cohesiveness and compassion. In collaboration with groups and fellow artists, Krolak masterminds caring innovations that employ movement, words, and curiosity as key ingredients. She describes her creative forays, stories, and thought process with great eloquence. One could easily hang on her every word for hours.

Episode #4  | Karyn Alzayer – The Healing Hands of Art: Virus Free 
For Henna artist Karyn Alzayer, hands don't carry germs, they give help, caresses, and play games. Hands are her canvas and the entry point of connection. But, in this pandemic, when there is risk of contagion and physical contact is limited, she offers new ways to connect.

Episode #3 | IAMBECUZWEARE – Ubuntu, a motto to create by
For more than two years IamBecuzWeAre the Co11ective took Boston by storm with a mission to shift culture in Boston. Four friends connected by an interest in the arts, entrepreneurship, and making a difference in the world were influenced by various cultural origins: Dominican Republic, Puerto Rico, and Sudan. Sitting on a rooftop in their Boston neighborhood one day, they schemed an idea that would embody UBUNTU, an African philosophy that reflects a "belief in a universal bond of sharing that connects all humanity."

Episode #2  |  Justine Rose – A clean pair of shoes in Rwanda
Immediately following graduation from Northeastern Unviersity where she earned a Masters in Biomedical Engineering, Justine Rose spent two 2019 summer months in Rwanda working with a team of fellow engineers at two different hospitals. The trip did more than feed her appetite for travel. During her two months there she was very happy. The Rwandan way of gratitude, family focus, resourcefulness, and resilience affected her enough to inspire a desire to return to Rwanda to live and work there some day.
In this conversation Justine describes how Rwanda impressed her in ways that she carries forward in work, life and future aspirations.

Episode #1 | Eli and Hudson – Voices for a Better Now
The conversation with the late saxophonist, composer, and humanitarian David Arteaga took place before the Coronavirus broke out but certainly addresses some key principles of living woven in and through his original music. A real gem of a person, David unfortunately died recently. This conversation captures his spirit as reflected in his music – from CD "Picture."  Well versed in philosophy, classical music, jazz, and art of all kinds, David played and composed music the way he lived – with generosity, integrity, honesty, and a sense of purpose. He believed "art has a central role in bringing people back to a recollection of why we are even here sharing this tiny little planet."
About Culture Matters in Malden
This podcast exists for two reasons: 1) to capture the rich history and cultural mix of Malden through conversations with artists, performers, and creatives representing various ethnicities; and 2) to be a podcast learning and exploration laboratory, offering interns, members of the community, and community groups a chance to be part of the Culture Matters crew, with hopes that they can branch out and work on their own podcast or be part of a podcasting team. 
Culture Matters in Malden episodes are available on Spotify, Soundcloud, and most podcast directories. They ca also be streamed from this web page.
If you are interested in signing up to host or help with an episode, fill out the form below. We also are offering a fellowship opportunity for aspiring podcasters who represent a nonprofit or community group. 
For more information, email ose@umaverse.org
Masio Dotson, Co-founder
Ose Schwab, Co-founder
Amanda Hurley, Intern Liaison
M.R. , Content Specialist, Podcast Editor
Be a Guest or a Guest Host
Do you have connections to Malden? Are you interested in talking about your art, design, or cultural background? Or would you like to interview someone you know who has something important to say related to culture or arts as a GUEST HOST?
We are a non-profit organization that receives primary funding through contracts negotiated between our current cable providers and the City of Malden, MA.