Lines Connecting Lines 2022
An exhibit of poetry & the artwork it inspired
On View April 7 - June 1, 2022
Artist Gathering April 28, 2022, 6:30-8:30pm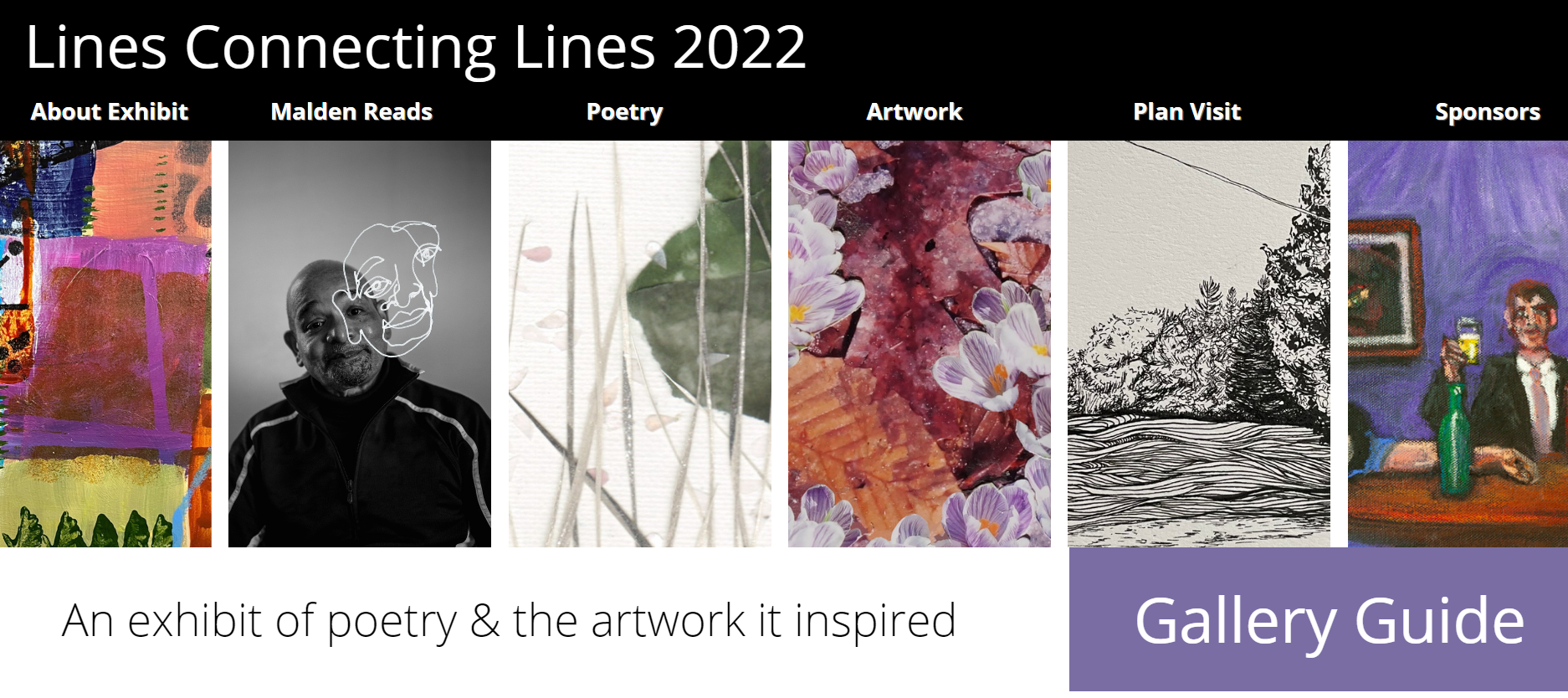 For your viewing assistance, click to view a gallery guide with poetry sound links, parking and dining details.
Monday – Wednesday noon – 6:30 pm
Thursday noon – 8 pm
Fridays by appointment: 11am – 6 pm. (To make an appointment for Friday visits please give 24 hours advance notice by emailing anne@umaverse.org)
*Hours are subject to change if there is a rise in Covid cases.
Start with one work of art and allow it to grow and transform into a completely new piece of art in a different medium. It is not a unique idea, but it is one that has proven inspirational time and again. In this case the original art was poems written by local poets that then inspired new works of visual art. The outcome of this collaboration is the exhibit "Lines Connecting Lines" at Gallery UMA (145 Pleasant Street, Malden) opening Thursday, April 7.
This exhibit is inspired in part by this year's Malden Reads book selection "An American Sunrise," by Joy Harjo. This collection of poems written by Joy Harjo, deal with loss, memory, and the nature of joy and hope. The collection also explores human rights and socio-political equity across American cultures and communities (which is especially relevant to our diverse city of Malden), the values of various indigenous peoples, and the importance of our land and environment. As we step through the portal of the pandemic, we see the collection of artwork and poems of this exhibit as a springboard for ideas and conversations that will help us heal and move forward as a community.
It is hosted by Gallery UMA, curated by Lisa L. Sears and co-organized with David Chia
Terry E. Carter
Kathy Fischer
Anna Geoffroy
Robert Hayes
Christopher Hickey
Judah Leblang
Julia Lisella
Jason M. Rubin
Felicia Ryan
Lisa L. Sears
Julian Smith
Jeff Taylor
Rachel Woodring
Header Art
Poem excerpt by Christopher Hickey; 
Artwork by Sharon Santillo, Emily Goldhammer, Jen Moltoni, Ose Manheim, Cassandra Peters, Edward Cardini
Susan Altman
Edward Cardini
Marilyn Davidson
Linda Dolph
Sarah Gerould
Sioux Gerow
Emily Goldhammer
Jennifer Hunter
Peg Kane
Yana Lapaix
Ose Manheim
Jen Moltoni
Cassandra Peters
Chiara Pieri
Sharon Santillo
Elizabeth Scorsello
Kelly Slater
Stephanie Stigliano
Video Slideshow of Art and Poetry Matches
As part of this exhibit, a slideshow combining readings of the poetry with the artwork the poem inspired was created and screened at the artist gathering April 28. Here below is the full slideshow. Excerpts by artwork and poem also available below. 
Videos edited by Allie Thompson, sound mastered by Jeff Taylor, production coordinated by Amanda Hurley and Anne D'Urso-Rose. Entire Playlist also available. Haley Hartin title graphic.
Video Slideshow Excerpts of Art and Poetry Matches
Susan Altman
Left Behind
Glass, stone, shells, rocks
Poem: "Low Tide, Ryder Beach Truro, MA" by Julia Lisella
Edward Cardini
The Moment
Oil pastel on black canvas
Poem: "Holes in My Brain"
by Kathy Fischer
Marilyn Davidson
The Encounter
Montage and mixed media on balsa wood
Poem: "Walk in the Neighborhood,"
Julia Lisella
Linda Dolph
Spinning
Monotypes cut/collaged & enhanced with paint & ink, covered in fine wire mesh
Poem: "Spinning,"
Lisa L. Sears
Sarah Gerould
Footsteps
Oil
Poem: "The Path,"
Felicia Ryan
Sioux Gerow
Map to Balance
Mixed media: acrylic, ink, watercolor
Poem: "Everything is Relative-2021,"
Judah Leblang
Sioux Gerow
What Remains, 2022
Mixed media assemblage with junk jewelry, and paint palette scraps
Poem: "Low Tide, Ryder Beach Truro, MA," Julia Lisella
Emily Goldhammer
Domesticated
Photography
Poem: "Domesticated,"
Jeff Taylor
Emily Goldhammer
Seven
Photography with ink
Poem: "seven,"
Terry E. Carter
Jen Hunter
What's Real
Found papers, glue, and ModPodge
Poem: "Statuesque Men,"
Anna Geoffrey
Peg Kane
Love Is Purple
Acrylic on canvas with mixed media
Poem: "Love is Purple,"
Jason M. Rubin
Yana Lapaix
The Intimacy
Watercolor and colored pencil
Poem: "The Intimacy and the Shifting Shapes," Robert Hayes
Yana Lapaix
Wake Up
Acrylic paint, markers
Poem: Untitled,
Kathy Fischer
Ose Manheim
Rebirth
Photograph (inkjet printing of two layered and glued photos)
Poem: "In New England's February I Worry About What the Crocuses Will Tell Us," Julia Lisella
Jen Moltoni
Once in the Shade Garden
Painted paper cut outs
Poem: "Once,"
Lisa L. Sears
Cassandra Peters
Jackson II Rd,
E. Monroe St,
Bowman St
Pen and ink, white charcoal
Poem: "Keychain,"
Rachel Woodring
Chiari Pieri
Stickman
Giclee print of digital painting
Poem: "Stick Man,"
Christopher Paul Hickey
Chiari Pieri
End in Tears
Giclee print of digital painting
Poem: "End in Tears,"
Anna Geoffroy
Sharon Santillo
Elders and Ancestors
Mixed media including found papers, acrylic and watercolor painted papers, graphite, gel pen, gel medium
Poem: "Six Haiku for the Honored Elders," Terry E. Carter
Sharon Santillo
Stories Untold
Acrylic on wood
Poem: "Walk in the Neighborhood,"
Julia Lisella
Elizabeth Scorsello
Blue Vision
Gouache and graphite
Poem, "Blue is the Color of Her Year," Felicia Ryan
Kelly Slater
Tiny Larch
Acrylic on paper
Poem: "Terrible and Loved,"
Anna Geoffroy
Stephanie Stigliano
Out, Between I
Out, Between II
Out, Between III
Collage of Gelli-prints & brush painting
Poem: "Out, Between,"
Julian W. Smith
To support this kind of free arts programming, consider making a tax-deductible contribution to Urban Media Arts (UMA).