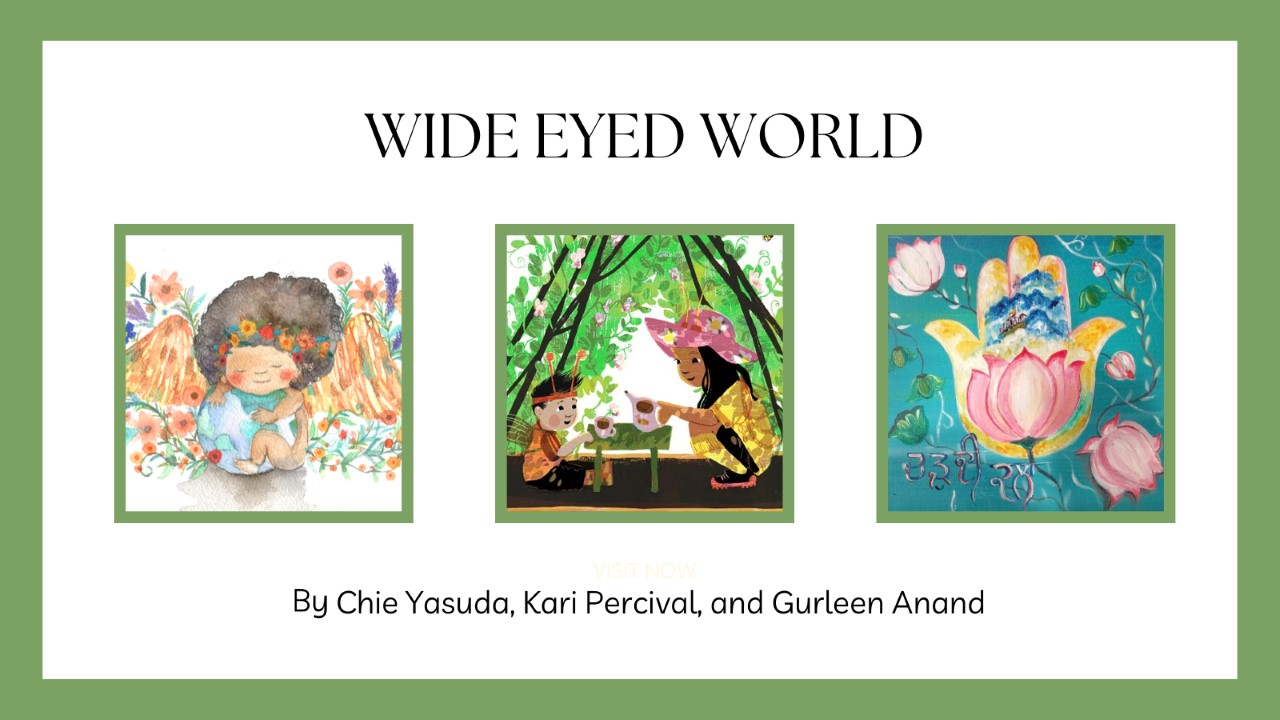 Seeing the world through the lens of children
and finding comfort and healing
by maintaining our childlike wonder
Healing art by Gurleen Anand | Illustrations by Kari Percival and Chie Yasuda
ON VIEW: November 30, 2022 thru February 28, 2023

FAMILY-FRIENDLY RECEPTION: Saturday, December 3, 3-5pm
With videos by Wonderland Spectacle Co. and fun art activities for children.
Gallery UMA is pleased to present a new exhibit, "Wide-Eyed World," featuring illustrations for children by Kari Percival and Chie Yasuda and art for healing by Gurleen Anand. The combined works center on seeing the world through the lens of children and finding comfort and healing through maintaining our childlike wonder. 
Gurleen Anand is a certified art healer from the University of Florida and resides in Malden. Throughout her career, she has worked in the field of creativity and innovation. 
Anand works with a variety of mediums, to create art centered around mindfulness and recovery. She uses art therapy to help individuals heal. She hopes to use her art as a way to bring people of various backgrounds and works of life together.
Kari Percival studied woodcut printmaking at the School of the Art Institute of Chicago. After earning her master's in environmental science and science teaching she taught in public schools for several years.
Percival writes and illustrates children's books on science inquiry and nature. She hopes to encourage children to get involved in citizen science and promote a life-long love of exploring the wonder of nature. 
Visit: karipercival.com
Chie Yasuda grew up in Japan and studied art at the University of New Mexico. She specializes in watercolor, seeking to illuminate the beauty of everyday life through common things. She uses art as a way to connect with other people and communicate joy to the entire world.
Yasuda works at her studio in Somerville and as an art instructor at the MAP family learning center in Malden. She enjoys teaching children and is working on her first illustrated children's book about the beauty of cultural diversity.
Visit: chieyasuda.com
Exhibition coordinator: Nina Ritter