Fahrenheit 451: Fanning the Flames of Fascism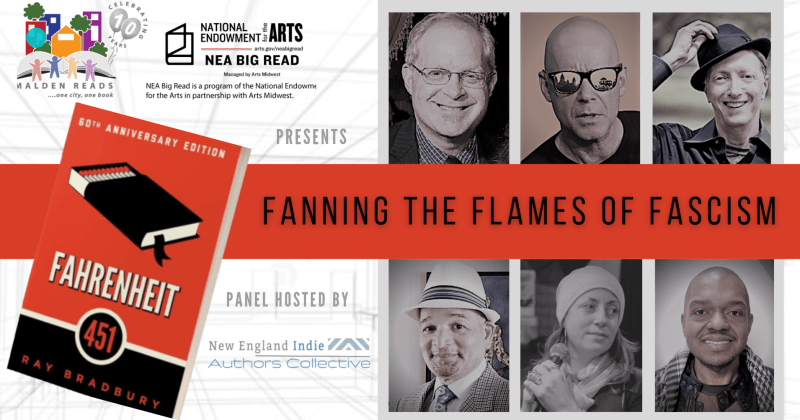 Wednesday, December 9, 7:00 – 8:15 PM
Malden Reads' NEA Big Read selection for 2020 was Ray Bradbury's Fahrenheit 451, a dystopic novel set in in a time where an autocratic government orders books to be burned, bans deep thinking, and floods people with brain-numbing media programming designed to keep them docile and unquestioning.
If that sounds all too familiar, it's why this book has stood the test of time and is more relevant now than ever. In this Zoom event—which serves as the capstone to Malden Reads' year of reading, analyzing, and discussing Bradbury's prescient work—members of the New England Indie Authors Collective (Judah Leblang, Randy Ross, and Malden's own Jason M. Rubin) and special guests (Nicolas Hyacinthe, Miss Genevieve, and Terry E. Carter) will explore how pertinent themes in the novel affect us personally as people and as artists, and how they relate to our own work.
NEIAC Presenters
Jason M. Rubin will discuss the "book people" who memorize stories so as to keep them alive. It's actually an ancient practice going back to the troubadours and griots who would go from village to village sharing songs and stories from their travels. Jason's first novel, The Grave & the Gay, is based on a 17th-century English folk ballad from this tradition.
Randy Ross is a writer/performer who will address two themes in the book that resonate for him and appear in his work: The pressure to conform to narrow cultural and lifestyle norms; and the tension in the story between bland media designed to placate and books that challenge readers to think critically and to contemplate new, possibly uncomfortable, ideas.
Judah Leblang will share an excerpt from his memoir, Echoes of Jerry: One Man's Search for His Deaf Uncle and His Own Voice, which deals with the bond between the author, a closeted gay boy, and his uncle, who was born deaf. The book turns on the power of voice and what happened when Jerry was denied his natural language (American Sign Language) and isolated from the Deaf Community.
Guest Presenters
Terry E. Carter is a writer, poet, and classically trained scribe whose literary influences range from Shakespeare to the Harlem Renaissance. An ordained minister, Terry has published five volumes of poetry, including his most recent book, Brown Skin and the Brave New World: A Poet's Anthem. His poem, "Fog of War," is both protest and polemic against the heightened racism, classism, and socio-economic disruption that is extant in America in the wake of the Trump administration.
Miss Genevieve is a hip hop/soul artist who connects with listeners' hearts and minds. With thought-provoking and relatable wordplay, laced with timeless vibes, Miss Genevieve provides a feeling for every mood. She'll perform an original spoken word piece about the current state of society, regarding the more than ever unavoidable existence of racism, along with the stresses of dealing with a pandemic.
Nicolas Hyacinthe is a Haitian artist living in Massachusetts who aims to shine a light beyond the veil where shared truths roam. He is a photographer, visual artist, poet, reader and thinker. Nic will be reading two original poems that express the virtues of resilience, resistance, and revolution of the mind, body, and society, all themes explored in Fahrenheit 451.
This event is funded by a grant from the NEA Big Read, a program of the National Endowment for the Arts in association with Arts Midwest.
About NEIAC: The New England Indie Authors Collective is a diverse group of local writers, artists, and playwrights who specialize in unconventional and experimental works of fiction, non-fiction, and memoir. We are: the founder of a small press and tech thriller writer and artist; a historical fiction writer, musician, and arts critic; a Grub Street writing instructor, memoirist, and storyteller; and a world-traveler, humorist, and novelist.