Haitian Dance Comes to Malden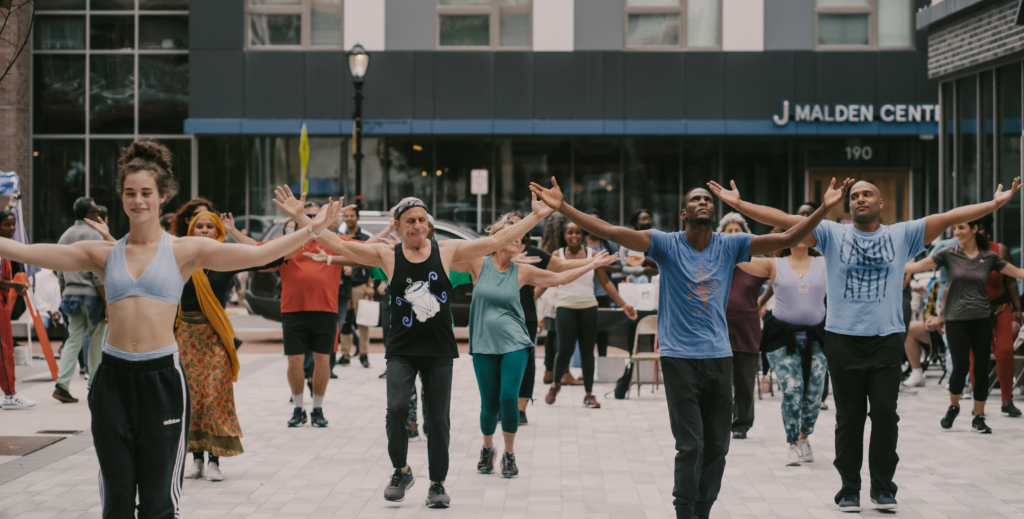 Ouvèti ("Opening" in Haitian Creole)
On October 2, 2021, Urban Media Arts and the City of Malden hosted an outdoor dance event that featured Jean Appolon Expressions (JAE), an acclaimed nonprofit that brings dance performances and educational programming to Massachusetts and Haiti. The event was made possible in part by a grant from the Malden Cultural Council and the sponsorship by United Peoples Bank. Gift bag contributions of several local businesses (see below for list/links) enhanced the event with this statement of support for the Haitian community. The program included a dance class, vendor displays, and a short performance by JAE company dancers.  Printable program.
Haitian Folkloric Dance Class
JAE Artistic Director and Co-Founder Jean Appolon started the afternoon with an all-levels Haitian folkloric dance class that lasted 90 minutes. Accompanied by live drummers, the dancers learned movements and rhythms of Haiti including but not limited to Yanvalou, Ibo, Kongo, Nago, and Petwo. Typically offered in Cambridge, Malden residents got a taste of of "a healing and community experience that is transformative" (longtime JAE class attendee).
Site-Specific Performance
A short opening restorative justice circle led by JAE's Cultural Strategist, Nadia Issa, collectively welcomed the community into the public space and set the "stage" for the site-specific performance.
As a preview of the spring 2022 premiere, JAE company dancers performed excerpts of Traka, Appolon's latest work in development. This work portrays feelings of isolation, fear, and ultimately hope and connection that people experiencing trauma might cycle through. The work brings together these emotions and experiences through dance, combined with the soundscape created by musician Val Jeanty.
"We support the Haitian Community"
Nine local businesses offered products and discounts to gift bags handed out to the public at the event.
Jean Appolon Expressions (JAE) is committed to creating hope and healing through Haitian Folkloric dance. JAE presents exciting professional dance performances, educational programming, and is committed to building strong, caring, and diverse communities through dance.
Headshot photos by Olivia Moon Photography
The performance excerpt on October 2 was drawn from Traka, Appolon's most recent production, which will premiere at the Institute of Contemporary Art , May 13 and 14th, 2022. A short documentary sponsored by the Isabela Stewart Gardner Museum's Amplifier Project explores the making of Traka and how dance, culture, and community are pathways to healing for trauma survivors. The production was created through healing community workshops and is based primarily on Appolon's personal story of trauma and the role of dance in his healing and success. Amplifier Projects at the Gardner highlight change-makers working towards social justice through the arts. 
Special thanks to those who helped set up, capture footage, take pictures, find sponsors, market, and plan this event:
Kamila Rodrigues, Marketing and Welcoming table
Nathalie Fanfan, Gift Bags and planning
Amanda Hurley, Media
Ron Cox, Media
James Mudge, Media/Studio On-site
Jim Muzzi, Set up/Media
Mayuka Furuhashi, Media and Welcoming table
Samyr Fanfan, Setup/Media
City of Malden Facilities team, Tables set up
Maria Louise, City of Malden liaison
Keren He, Media