In our own backyard: Two musical forces connect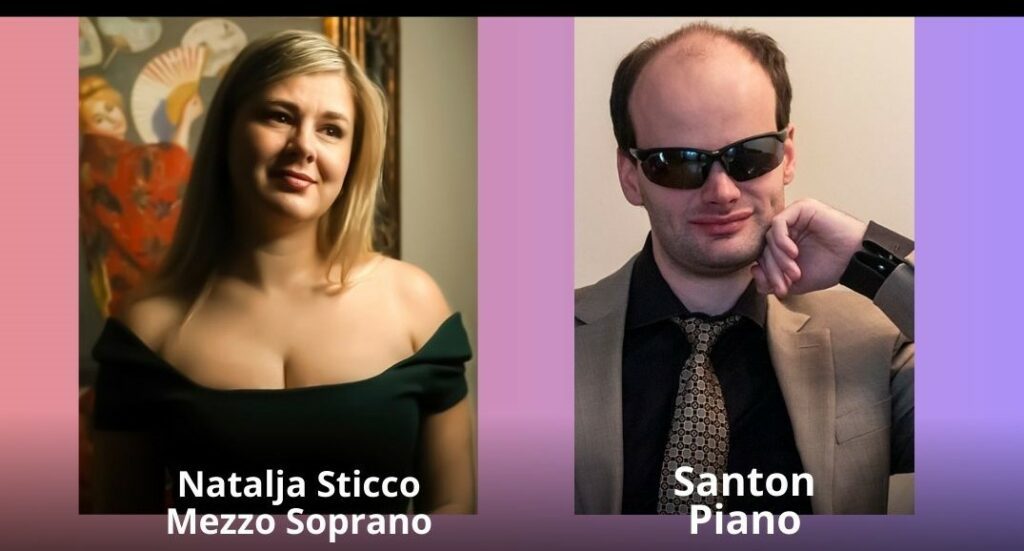 Malden Porchfest is coming thanks to the vision of a small group, under the leadership of Yinh Kiefer, sharing a "vision of interconnection of ALL of Malden's neighbors from ALL of Malden's neighborhoods through the common language of arts and music."
This vision is already becoming a reality by some of the collaborations that have formed across neighborhoods, country, and background. One recent collaboration worth sharing about is between two extraordinary award-winning musicians, both living in Malden: pianist Santon and Mezzo Soprano Natalja Sticco, who is also referred to as an Opera and Classical Crossover Singer.
As part of the Malden Porchfest, Natalja Sticco and Santon will be performing together 2 PM, June 11 at St. Paul's Parish, 26 Washington Street and 4pm at Pearl Street Station. Natalja will also be performing solo selections at these two venues. Here is an excerpt from recent rehearsal with Santon.
About Natalja Sticco.
Natalja Sticco and husband Gene Sticco (her marketing manager and videographer extraordinaire) are relatively new to Malden and yet Natalja has become a bit of a celebrity (rightly so), having participated in numerous Malden festivals, UMA's Arts & Minds project, etc. She and Gene are generous with their contributions to Malden and community engagement. For us, this is a real treasure given Natalja's notable background and talent.
Video by Gene Sticco.
For more information and to book Natalja, visit nataljasticco.com
Biography:
Born in Riga, USSR, Natalja was a small girl when peaceful protests opened the way to her country declaring its independence in 1991; contributing to the fall of the Soviet Union. This 'Singing Revolution,' as it's known, became the dawn of new opportunity in a newly independent Latvia. 'I didn't understand what was happening around me, but I remember the music everywhere my mother took me.' Natalja recalls, 'and I remember the joy in the adults around me when we heard it. When I learned more about those days in school, I realized the power music had to truly bring hope and inspire change.'

In 2009, Natalja entered the prestigious Jāzeps Vītols Latvian Academy of Music (JVLMA) where she studied Vocal Performance. There, she earned a coveted spot as a member of Opera Studio 'Figaro,' performing the roles of Filippyevna (Eugene Onegin), Kastcheevna (Kaschey the Immortal), Death (chamber opera Stalin and Death). That same year Natalja was also selected for the chorus of the Latvian National Opera & Ballet and its' first Young Artist Program, under the Direction of Andrejs Zagars. As a young LNO artist she performed the roles of Orlofsky (die Fledermaus) and mastered the role of Olga (Eugene Onegin). She has featured in Master Classes with Axel Everaert (Belgium), Margarita Gruzdeva and Anita Garanca (Latvia) as well as studying under Soprano Hanneke de Wit (Netherlands).

Over her seven seasons with the Latvian National Opera, Natalja appeared in over 200 productions of 30 Operas in Opera Houses across Europe including: Teatro Calderón, Vallladolid, Spain (Macbeth, 2010); National Opera and Ballet of Belarus, Minsk (Traviata, 2010); Rahvusooper Estonia, Talllinn,(Eugene Onegin, M'dame Butterfly, 2011); Bolshoi Theatre, Moscow, Russia (Eugene Oregon, Lucia di Lammermoor, 2013), Monte Carlo (Carmen, 2013), as well as the Royal Opera House Muscat in Oman (Der fliegende Holländer, 2013). Additionally, she was privileged to share the stage with Opera stars such as Tenor Jonas Kaufman, legendary Russian Mezzo Soprano Elena Obraztsova and fellow Latvians Soprano Kristine Opolais, Soprano Marina Rebekka and Mezzo Soprano Elina Garanca. ​
Since immigrating to the United States in 2018, and launching the next phase of her professional career as a Soloist and Concert Performer, Natalja continues mastering her artistry guided by Maestro Paolo de Napoli (Italy), and expanding her repertoire to include Baroque and Early Music Baritone under Thomas Jones of Harvard University's Office for the Arts.

​Natalja holds a Bachelor Degree in Vocal Performance from Jāzeps Vītols Latvian Academy of Music  as well as a BSc in Information Technology and a MSc in IT Engineering, both from Riga Technical University in Latvia.

From Natalja Sticco's Website
---
About Santon
Santon and parents Julia Swerdlov and Alex Sviridenko have been residents of Malden many years. They are well-known and respected for their engagement with many of the community-wide arts activities. Santon continues to excel in his musical accomplishments and widespread performances.

Biography:
Santon is an award-winning musician who is blind from birth and autistic. He was born in 1991 in St. Petersburg, Russia, and at the age of 1.5 years moved with his family to Massachusetts, USA.

Showing musicality early, Santon began piano lessons at 3.5 years old. He is an alumnus of Perkins School for the Blind. Over the years at Perkins, he performed with Orleans, Felix Cavaliere's Rascals, Peter Wolf, Bob Weir of the Grateful Dead, and Natalie Merchant.

Santon went on to graduate from Berklee College of Music, summa *** laude. He plays multiple instruments in various genres and composes music.

Santon performs as a solo pianist, accompanies singers, and plays piano in the Boston Tango Orchestra. He has also been collaborating with a Kentucky-native writer and spoken word artist CD Collins, composing and playing music to her lyrics.

Santon performed in many Boston venues including Boston Symphony Hall, Berklee Performance Center, and Shalin Liu Performance Center in Rockport, MA. He also traveled to Colorado, Kentucky, New York, and several other states to play solo or with his music partners.

Santon produced 2 albums: "Flavors of the Rainbow" – solo piano classical favorites, and "Night Animals" – CD Collins & Santon duet of spoken word with music.

When Santon doesn't play music, he dances the Argentine tango, does acrobatics on a trapeze, windsurfs, rides a tandem bicycle with his dad, swims, skis, skates, travels, and fully enjoys life.

From Santon's Website