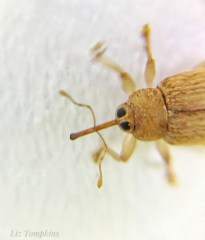 Photography by Liz Tompkins

September – November 2019
The artwork of photographer Liz Tompkins, takes a closer look at … bugs. Please don't stop reading! Bugs are everywhere and many folks just don't like these little critters. Yet insects are the largest known group of animals, making up three quarters of animal species. That's a lot of bugs!
Part of the image problem of bugs is that most of them are very small, averaging less than 6mm long. It's hard to appreciate something you can't see. That's where photographer Liz Tompkins steps in. Her photographs zoom in on their subject, enlarging their details and features, helping the viewer to differentiate between types of tiny bugs, to appreciate their varied structures and colors and movements.
"I began photographing insects a few years ago under our porch lights, to get over my fear of little flying things," says Tompkins, a Malden-based artist. "The little flying things turned out to be pretty interesting when they were magnified thirty times. My wonder at the diversity of life grows with each new bug I discover. I invite you to share in that wonder."
Tompkins is a retired 7th grade science teacher from the Malden Public Schools which, she says, explains her interest in pretty much anything. She began showing her work at the first Window Arts Malden event in 2007. She also participated in The Gallery at 480 Main Street and her bugs have also made an appearance at the Malden Public Library.
"Bugs: A Closer Look" will be on view through November 30. A reception with the artist will be held on Wednesday, October 23, from 6:30 – 8:00pm. It will include a lively discussion about bugs and their wonders. The MATV Gallery is located at MATV, Malden's Media Center, at 145 Pleasant Street. Hours are Mondays – Thursday, 10am – 9pm; Fridays, 10am – 6pm; and Saturday, 10am – 2pm.