Malden City Seal Rededication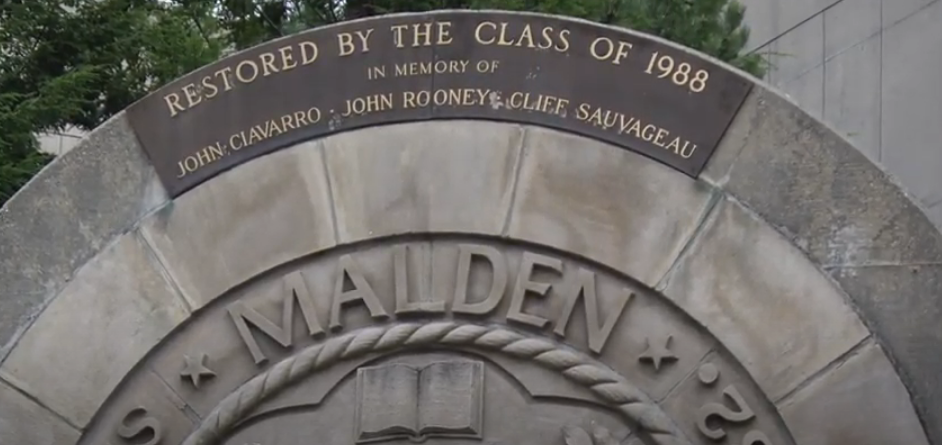 Formal Rededication of Seal, June 4, 2022 at 11am 77 Salem Street, Malden. Note: also to include a reading of classmates/friends' names followed by a moment of silence for those who have passed away since graduating. This rededication has a backstory worth learning about.
The story behind the rededication
---
Written by Victor Mejias
The Malden City Seal was restored by Victor Mejias, Jr. (Class President) on behalf of the Malden High School Class of 1988. After graduating from Malden High in 1988, Victor spent 3 years raising upwards of $500,000.00 in in-kind contributions to bring the original City Seal back to Malden High School grounds from where it once stood. The City Seal once graced the entry way of the original brick Malden High School that was torn down in 1979 to make way for the existing white building that currently stands behind the City Seal. The Seal is over 100 years old. It was thought to be an impossible feat to restore the City Seal that sat in the Malden DPW yard wasting away. Victor and his class were determined to leave something special in memory of 3 friends/classmates (John Ciavarro, John Rooney, and Cliff Sauvageau) that had passed away too soon while in High School. This became the driving force to make the impossible, possible.
After 3 years of knocking on every local businesses' door that he could find to help, he was able to finally place the Malden City Seal back where it belongs on Malden High School grounds.
Unfortunately the Class of 1988 lost their Beloved Assistant Principal, Mr. John Benotti just 6 years after graduating from Malden High School, he was only 47 years young. Mr. Benotti was a Chemistry Teacher before being promoted in 1988 to serve as an Assistant Principal to over 400 incoming freshman. It goes without saying the following 4 years of his new job came with many challenges.
Mr. Benotti was extremely proud of this Class and their amazing class gift the Malden City Seal they restored to honor their former friends/classmates to the High School & City. It was only fitting after hearing the devastating news of his passing, that they vowed to add his name to the their Class's gift that he cherished. It took them almost 26 years to finally do get his name added, but they are excited it is finally coming to fruition.
Mr. Benotti was extremely active in his hometown community, that it is not surprising they named a Library in Magnolia Gloucester after him. There is also a Scholarship in his name that is given to a deserving student each year at Malden High School.
To learn a bit more about this incredible man Mr. Benotti, please read his obituary at:
http://www.oa khi I lfa rm. com/whs1964/whs64a ipbitua ries. htmI