Together Apart: Slicing and Dicing Ideas and Images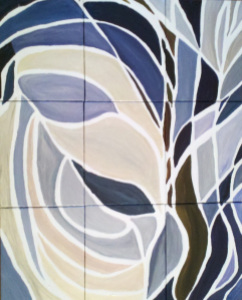 Artwork by Lisa L. Sears & Jen Moltoni
MATV presents two local artists in the exhibit "Together Apart: Slicing and Dicing Ideas and Images," which runs through April 15, 2016.
Lisa L. Sears, currently based in Malden, is a vibrant and eclectic artist whose work spans many realms of art expression. Sears is featuring both collages and black and white photographs in this exhibit. Sears' photographs are thoughtful and inspiring, and her collages portray dream-like scenes that feature the deconstruction and reintegration of images in a way that creates an interesting balance between fantasy and objectivity.
Jen Moltoni, based in Melrose, is a collage artist and painter, who is featuring both paintings and collages in this display. Moltoni's ocean- inspired paintings are assembled using several canvases to reconstruct the images that inspire her. Her collages are composed of hand-painted papers and photographs that have be cut up and then reassembled into scenes of nature and whimsy.
Originally from Maine, and currently settled on a lovely tree-lined street in Melrose, Jen Moltoni is a collage/mixed media artist and painter with no formal training. She draws inspiration from her numerous trips to beaches throughout New England. Her collage process is simple. She takes pictures of the beach, the sky, found objects, trees, she paints various weights and types of paper, finding joy in the swirling and mixing of color, and then cuts it all up. Her blank canvases a then become a playground of form and shape, eventually featuring scenes inspired by nature. She feels that the empty space is as important as the colored pieces of her work. She is also pleased to be including some of her paintings in this exhibit. Inspired by the ocean and seashells, each painting is composed of several connecting canvases, giving each a puzzle-like quality. Jen is an emerging artist who regularly shows her work in and around Melrose, as well as in many locations across the greater Boston area.
MATV, Malden's Media Center, is pleased to present the works of these talented and emerging artists in this thought -provoking and colorful display. The MATV Gallery is located at MATV, 145 Pleasant Street. Hours are Monday – Thursday, 10 a.m. – 9 p.m.; Friday, 10 a.m. – 6 p.m.; and Saturday, 10 a.m. – 2 p.m. The facility is handicapped accessible.