Art by David Harris and Dominique Lecomte
The MATV Gallery at Malden's Media Center is pleased to present a new exhibit, "Images and Impressions," which features the work of two local artists—photographic images by David Harris and woodcut/linoleum prints by Dominique Lecomte.
David Harris began taking photographs of student life in the early 1970s. At the time he was committed to using the camera as a means of documenting the tumultuous events of the time. In the intervening years, his subject matter changed, but his determination to use the camera to document has remained. He describes is work as "in situ," a phrase meaning "in its original place." He insists that every place is filled with images to behold if we look closely enough; the camera is a means of capturing the hidden beauty in our everyday experience. His work often concentrates on detail of metal surfaces – from construction sites to train cars. Originally focused primarily on rust, he has expanded the work to include other painted and distressed metal surfaces. In recent years he has added work documenting his travels, with images shown here from Panama City, Lisbon, and Arcadia. Much of the work on exhibit was shot with film on a 35 mm SLR, with the more recent work from DSLR. All images are printed digitally.
Dominique Lecomte grew up in a small town in France and studied at the Ecole de l'Image in Epinal. He specialized in creating oils, acrylics and etchings. After getting his master's in French and Philosophy, he came to the U.S., – by way of Cambodia between 1992 and 1994, to teach in a private school near Boston. It is then he decided to specialize in linocuts and woodcuts, mainly due to lack of studio space. His prints are whimsical and contemporary, celebrating simple pleasures and the joy of living. His aim is to bring a smile or a positive feeling to people who view or purchase his artwork. Lecomte's work is represented in private and public collections in Belgium, Brazil, Canada, Denmark, Ecuador, England, France, Italy, Japan, Norway, Sweden, and the USA. You can view a short MATV-produced video about the artist here.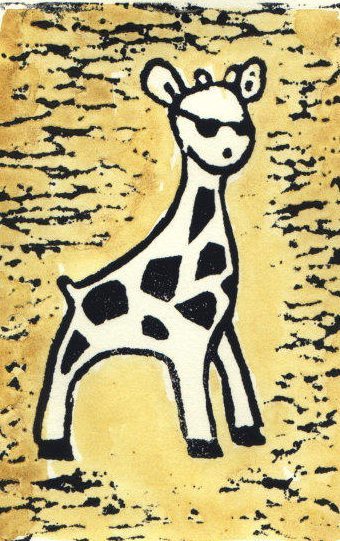 "Images and Impressions" is on view during MATV business hours: Mondays – Thursdays, 10am – 9pm; Fridays, 10am – 6pm; and Saturdays, 10am – 2pm. Although there is no formal reception planned, please stay tuned for other upcoming events at MATV which will feature the gallery exhibit as a component. All are invited to view and enjoy the artwork. All the art is available for purchase.
Here's a video featuring one of the artists in the current exhibit: